Slip & Fall Accidents in VA
Injury Attorney with nearly 30 years of Experience
Property owners have a certain responsibility to ensure that their premises are maintained and kept safe for potential customers. Certain circumstances are considered "open and obvious," where a reasonable person could see the hazard and avoid it. Accidents arising in these types of situations are not the obligation of the owner to provide compensation for. Conditions such as wet floors, holes, broken glass or any other dangers that were not clearly marked by the property owner, resulting in an accident, could place liability on the owner.
If you have suffered an injury in a public place, the personal injury professionals at Obenshain Law Group can work with you to obtain compensation. Our Shenandoah Valley firm employs elite attorneys who have worked for nearly 30 years on behalf of personal injury victims. Let us come alongside you today!
Common Causes of Slip & Falls
Slip and fall accidents can be caused by many things including:
Wet or oily floors
Uneven floors
Poorly maintained walkways
Loose handrails
Unguarded manholes
Weather hazards
Poor lighting
Clutter
You should note that filing a slip and fall lawsuit may not be possible in the following circumstances: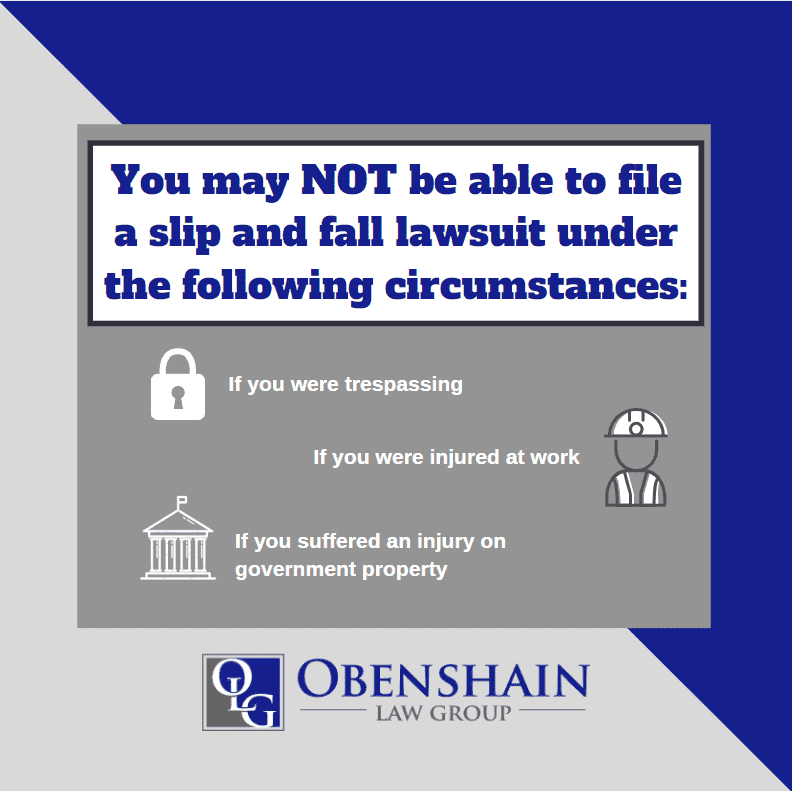 Trespassers-Injuries sustained by trespassers are not the responsibility of the property owner.
Workplace accidents-Accidents at a work site fall under the employer's jurisdiction and worker's compensation laws.
Government property-There are certain limits for filing claims for injuries on federal property per the Federal Tort Claims Act.
While appearing straightforward, slip and fall accident lawsuits can be quite complicated. The plaintiff will have to compile sufficient evidence of a defect or dangerous condition on the site where the accident occurred. It is possible that an expert may have to give their testimony such as an engineer or safety specialist regarding the danger of the property's condition.
If you have been injured in a slip and fall accident, Obenshain Law Group is here to help you receive damages from the responsible party. Call us today to retain our experienced legal counsel.